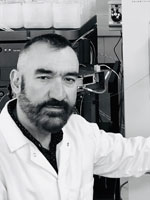 Juan A. Oses-Prieto
Position
Associate Research Biochemist
Email
joses@cgl.ucsf.edu
Education
| | | | |
| --- | --- | --- | --- |
| Ph.D. | Cell Biology | 1999 | University of Navarra, Pamplona, Spain |
| M.A. | Biochemistry | 1997 | University of Navarra, Pamplona, Spain |
| M.A. | Biology | 1994 | University of Navarra, Pamplona, Spain |
Work History
| | |
| --- | --- |
| 2017-present: | Associate Research Biochemist, Mass Spectrometry Facility, Department of Pharmaceutical Chemistry, University of California, San Francisco |
| 2009-2017: | Assistant Research Biochemist, Mass Spectrometry Facility, Department of Pharmaceutical Chemistry, University of California, San Francisco |
| 2009-2013: | Visiting Professor, Department of Biochemistry, University of Navarra, Pamplona, Spain |
| 2004-2009: | Postdoctoral Fellow, Mass Spectrometry Facility, Department of Pharmaceutical Chemistry, University of California, San Francisco |
| 2001-2008: | Instructor, Department of Biochemistry, University of Navarra, Pamplona, Spain |
| 2000-2004: | Postdoctoral Fellow, Department of Cell Biology and Biophysics, University of Kansas, Kansas City, MO. (supervisors: Drs. Marino Martinez-Carrion and Ana Iriarte) |
Research Interests
Developing a greater understanding of the intimate details of the processes inside living cells requires in-depth analysis of the molecular machinery involved in those activities, and proteins are the functional core of many of these mechanisms. We are using mass spectrometry to gain extensive knowledge of the proteins present in different tissues and cell types. These proteomic studies are performed at different levels:
Comprehensive knowledge (Qualitative and quantitative) of protein expression.
Posttranslational modifications (specific, regulated, dynamic) to particular proteins.
Defining the complex interaction network of these polypeptides.
We provide mass spectrometry capabilities and expertise in the proteomic analysis for many different collaborative projects. We are particularly involved in collaborative projects with laboratories around the world to characterize neuronal structure and function, aiming to identify target proteins or pathways to develop regenerative strategies.
Select Publications
Terenzio M, Koley S, Samra N, Rishal I, Zhao Q, Sahoo PK, Urisman A, Marvaldi L, Oses-Prieto JA, Forester C, Gomes C, Kalinski AL, Di Pizio A, Doron-Mandel E, Perry RB, Koppel I, Twiss JL, Burlingame AL, Fainzilber M. Locally translated mTOR controls axonal local translation in nerve injury. Science. 359(6382):1416-1421. (2018) doi: 10.1126/science.aan1053. PubMed PMID: 29567716. [Pubmed]
Huang CY, Zhang C, Ho TS, Oses-Prieto JA, Burlingame AL, Lalonde J, Noebels JL, Leterrier C, Rasband MN. αII Spectrin Forms a Periodic Cytoskeleton at the Axon Initial Segment and Is Required for Nervous System Function. J Neurosci. 37(47):11311-11322. (2017) doi: 10.1523/JNEUROSCI.2112-17.2017. Epub 2017 Oct 16. PubMed PMID: 29038240. [Pubmed]
Quantitative proteomics reveals fundamental regulatory differences in oncogenic HRAS and IDH1 driven astrocytoma. Doll S, Urisman A, Oses-Prieto JA, Arnott D, Burlingame AL. Mol Cell Proteomics. 16(1):39-56. (2017) ) doi: 10.1074/mcp.M116.063883. PubMed Central PMCID: PMC5217781. [Pubmed]
Onizawa M, Oshima S, Schulze-Topphoff U, Oses-Prieto JA, Lu T, Tavares R, Prodhomme T, Duong B, Whang MI, Advincula R, Agelidis A, Barrera J, Wu H, Burlingame A, Malynn BA, Zamvil SS, Ma A. The ubiquitin-modifying enzyme A20 restricts ubiquitination of the kinase RIPK3 and protects cells from necroptosis. Nat Immunol. 16(6):618-27. (2015) doi: 10.1038/ni.3172. PubMed PMID: 25939025; PubMed Central PMCID: PMC4439357 [Pubmed]
Nishino M, Choy JW, Gushwa NN, Oses-Prieto JA, Koupparis K, Burlingame AL, Renslo AR, McKerrow JH, Taunton J. Hypothemicin, a fungal natural product, identifies therapeutic targets in Trypanosoma brucei. Elife. 2:e00712. (2013) https://dx.doi.org/10.7554/eLife.00712.001
Xu J, Wang AH, Oses-Prieto JA, Makhijani K, Katsuno Y, Pei M, Yan L, Zheng YG, Burlingame AL, Bruckner K, Derynck R. Arginine Methylation Initiates BMP-Induced Smad Signaling. Mol Cell. 51(1):5-19 (2013). https://dx.doi.org/10.1016/j.molcel.2013.05.004
Tang W, Kim TW, Oses-Prieto JA, Sun Y, Dent Z, Zhu S, Wang R, Burlingame AL, Wang ZY. BSKs mediate signal transduction from the receptor kinase BRI1 in Arabidopsis, Science, 321(5888), 557-560 (2008). [Pubmed]
Rodriguez-Viciana P, Oses-Prieto JA, Burlingame A, Fried M, McCormick F. A Phosphatase Holoenzyme Comprised of Shoc2/Sur8 and the Catalytic Subunit of PP1 Functions as an M-Ras Effector to Modulate Raf Activity, Molecular Cell, 22(2), 217-230 (2006) [Pubmed]
---