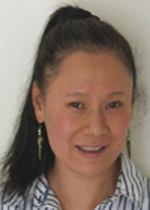 Kathy Li
Position
Staff Research Associate
Email
kathyli@cgl.ucsf.edu
Education
| | | | |
| --- | --- | --- | --- |
| M.Sc. | Chemistry | 2005 | San Francisco State University, San Francisco, CA |
Work History
| | |
| --- | --- |
| 2007-Present: | Staff Research Associate, Mass Spectrometry Facility, UCSF, CA |
| 1995-2007: | Chemist, PolyPlus Company, Berkeley, CA |
Research Interests
MMy current work involves gel electrophoresis, enzymatic digestion of proteins, and mass spectrometric analysis. My goal is to support collaborative research groups at UCSF and other organizations and make them successful.
Select Publications
Gleason CE, Oses-Prieto JA, Li KH, Saha B, Situ G, Burlingame AL, Pearce D. Phosphorylation at distinct subcellular locations underlies specificity in mTORC2 activation of SGK1 and Akt. J Cell Sci. 2019 Mar 5. pii: jcs.224931. doi: 10.1242/jcs.224931 (2019) [Pubmed]
Tao W, Ma C, Bemben MA, Li KH, Burlingame AL, Zhang M, Nicoll RA. Mechanisms underlying the synaptic trafficking of the glutamate delta receptor GluD1. Mol Psychiatry. 2019 Mar 1. doi: 10.1038/s41380-019-0378-4 (2019) [Pubmed]
Han TW, Ye W, Bethel NP, Zubia M, Kim A, Li KH, Burlingame AL, Grabe M, Jan YN, Jan LY. Chemically induced vesiculation as a platform for studying TMEM16F activity. Proc Natl Acad Sci U S A. 2019 Jan 22;116(4):1309-1318 (2019) [Pubmed]
Butler VJ, Salazar DA, Soriano-Castell D, Alves-Ferreira M, Dennissen FJA, Vohra M, Oses-Prieto JA, Li KH, Wang AL, Jing B, Li B, Groisman A, Gutierrez E, Mooney S, Burlingame AL, Ashrafi K, Mandelkow EM, Encalada SE, Kao AW. Tau/MAPT disease-associated variant A152T alters tau function and toxicity via impaired retrograde axonal transport. Hum Mol Genet. 2018 Dec 26. doi: 10.1093/hmg/ddy442 (2018) [Pubmed]
Nayak A, Kim DY, Trnka MJ, Kerr CH, Lidsky PV, Stanley DJ, Rivera BM, Li KH, Burlingame AL, Jan E, Frydman J, Gross JD, Andino R. A Viral Protein Restricts Drosophila RNAi Immunity by Regulating Argonaute Activity and Stability. Cell Host Microbe. 2018 Oct 10; 24(4):542-557 (2018) [Pubmed]
Lee S, Shang Y, Redmond SA, Urisman A, Tang AA, Li KH, Burlingame AL, Pak RA, Joviccirc;icacute; A, Gitler AD, Wang J, Gray NS, Seeley WW, Siddique T, Bigio EH, Lee VM, Trojanowski JQ, Chan JR, Huang EJ. Activation of HIPK2 Promotes ER Stress-Mediated Neurodegeneration in Amyotrophic Lateral Sclerosis. Neuron. 2016 Jul 6; 91(1),41-55 (2016). [Pubmed]
Wei CQ, Chien CW, Ai LF, Zhao J, Zhang Z, Li KH, Burlingame AL, Sun Y, Wang ZY. The Arabidopsis B-box protein BZS1/BBX20 interacts with HY5 and mediates strigolactone regulation of photomorphogenesis. J Genet Genomics. 2016 Sep 20; 43(9),555-563 (2016). [Pubmed]
Portnoy V, Lin SH, Li KH, Burlingame A, Hu ZH, Li H, Li LC. saRNA-guided Ago2 targets the RITA complex to promoters to stimulate transcription. Cell Res. 2016 Mar; 26(3):320-335 (2016) [Pubmed]
Muller M, Hutin S, Marigold O, Li KH, Burlingame A, Glaunsinger BA. A ribonucleoprotein complex protects the interleukin-6 mRNA from degradation by distinct herpesviral endonucleases. PLoS Pathog. 2015 May 12; 11(5),e1004899 (2015). [Pubmed]
Didonna A, Isobe N, Caillier SJ, Li KH, Burlingame AL, Hauser SL, Baranzini SE, Patsopoulos NA, Oksenberg JR. A non-synonymous single-nucleotide polymorphism associated with multiple sclerosis risk affects the EVI5 interactome. Hum Mol Genet. 2015 Dec 15; 24(24),7151-7158 (2015) [Pubmed]
Cho Y., Di Liberto V., Carlin D., Abe N., Li K.H., Burlingame A.L., Guan S., Michaelevski I., Cavalli V. Syntaxin13 expression is regulated by mammalian Target Of Rapamycin (mTOR) in injured neurons to promote axon regeneration. J Biol Chem, 289, 15820-15832. (2014). [Pubmed]
Jäger S., Cimermancic P., Gulbahce N., Johnson J.R., McGovern K.E., Clarke S.C., Shales M., Mercenne G., Pache L., Li K., Hernandez H., Jang G.M., Roth S.L., Akiva E., Marlett J., Stephens M., D'Orso I., Fernandes J., Fahey M., Mahon C., O'Donoghue A.J., Todorovic A., Morris J.H., Maltby D.A., Alber T., Cagney G., Bushman F.D., Young J.A., Chanda S.K., Sundquist W.I., Kortemme T., Hernandez R.D., Craik C.S., Burlingame A., Sali A., Frankel A.D., and Krogan N.J. Global landscape of HIV–human protein complexes. Nature, 481(7381), 365–370. (2012). [Pubmed]
Li T, Xu SL, Oses-Prieto JA, Putil S, Xu P, Wang RJ, Li KH, Maltby DA, An LH, Burlingame AL, Deng ZP, Wang ZY, Proteomics Analysis Reveals Post-Translational Mechanisms for Cold-Induced Metabolic Changes in Arabidopsis, Mol Plant, 4(2), 361-374 (2011). [Pubmed]
Wang D, Oses-Prieto JA, Li KH, Fernandes JF, Burlingame AL, Walbot V, The male sterile 8 mutation of maize disrupts the temporal progression of the transcriptome and results in the mis-regulation of metabolic functions, Plant J., 63(6), 939-951 (2010). [Pubmed]
Gronert S., Li K.H., Horuichi M., Manipulating the Fragmentation Patterns of Phosphopeptides via Gas-Phase Boron Derivatization: Determining Phosphorylation Sites in Peptides with Multiple Serines, J Am Soc Mass Spectrom, 16(12), 1905-1914 (2005). [Pubmed]
Gronert S., Huang R., Li K.H., Gas Phase Derivatization in Peptide Analysis 1: The Utility of Trimethyl Borate in Identifying Phosphorylation Sites, Int J Mass Spectrom, 231, 179-187 (2004).
---