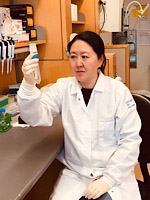 Bing Gao
Position
Assistant Specialist
Email
Bing.Gao@ucsf.edu
Education
| | | | |
| --- | --- | --- | --- |
| Ph.D. | Chemistry | 2006 | Chinese University of Hong Kong, Hong Kong |
| M.Phil | Chemistry | 1998 | Liaoning Normal University, China |
Work History
| | |
| --- | --- |
| 2018-Present: | Assistant Specialist, Dept. of Pharmaceutical Chem, UCSF, San Francisco, CA |
| 2011-2017: | Associate Professor, Dept. of Bioscience, S. China Univ. of Tech, China |
| 2009-20011: | Visiting fellow, National Institute of Mental Health, Bethesda, MD |
| 2006—2009: | Post-doc, Dept. of Biochem, UCSB, Santa Barbara, CA |
Research Interests
My research interests are mainly focused on the characterization of protein post-translational modifications at the molecular level using mass spectrometry-based proteomic methodologies. I am also interested in method development of quantification of protein expression levels in cells using mass spectrometry.
Select Publications
Zhao Xu, Yu Yue, Gao Bing, Li Guangyu, and Zhang Wentao. "Apolipoprotein A1-Unique Peptide as a Diagnostic Biomarker for Acute Ischemic Stroke." International Journal of Molecular Science, 2016, Mar 28; 17(4):458. doi: 10.3390/ijms17040458.
Blackler AR, Morgan NY, Gao Bing, Olano LR, Armani MD, Romantseva E, Kakareka JW, Bonner RF, Mukherjee S, Xiao B, Tran K, Pohida TJ, Emmert-Buck MR, Tangrea MA, Markey SP. "Proteomic analysis of nuclei dissected from fixed rat brain tissue using expression microdissection." Analytical Chemistry, 2013 Aug 6; 85(15):7139-45. doi: 10.1021/ac400691k.
Tangrea Michael A, Mukherjee S, Gao Bing, Markey Sanford P, and Emmert-Buck Michael R. "Effect of Immunohistochemistry on Molecular Analysis of Tissue Samples: Implications for Microdissection Technologies" Journal of Histochemistry and Cytochemistry, 2011 Jun; 59(6):591-600.doi: 10.1369/0022155411404704.
---