UCSF Mass Spectrometry Facility
The National Bio-Organic, Biomedical Mass Spectrometry Resource Center, supported by the NIH National Center for Research Resources, provides both scientific and technical expertise and state-of-the-art high-performance, tandem mass spectrometric instrumentation. The facility is a world leader in proteomic analysis although it also provides a service for small molecule analysis. Significant instrumentation in the facility includes three QSTAR quadrupole orthogonal time of flight instruments, and both an LTQ-Orbitrap platform with electron transfer dissociation (ETD) and an LTQ-FT linear ion trap FT-ICR instrument equipped with the ability to perform electron capture dissociation (ECD). The Center also has a 4700 Proteomic Analyzer MALDI tandem time of flight instrument; as well as a QTRAP 5500 hybrid triple quadrupole linear ion trap instrument; and a Thermo Fisher LTQ Orbitrap Velos (please see link below for more information about this particular instrument acquisition).
Major research focuses within the Center are the analysis of post-translational modifications, including phosphorylation and O-GlcNAcylation and development of methods for quantitative comparative analysis of protein and post-translational modification levels. The program also continues to develop one of the leading suites of tools for analysis of mass spectrometry proteomics data, Protein Prospector. The current web-based release allows unrestricted searching of MS and MSMS data, as well as the ability to perform comparative quantitative analysis of samples using isotopic-labeling reagents. It is the only freely-available web-based resource that allows this type of analysis.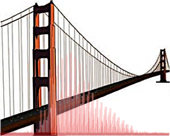 Eleventh International Symposium on Mass Spectrometry in the Health and Life Sciences:
Molecular and Cellular Proteomics
August 2014
Hotel Nikko
San Francisco, CA
Every two years the Facility hosts one of the premier conferences dedicated to in-depth discussions on mass spectrometry and it's application to biological and bio-medical research. You can read more about the Symposium or visit the Symposium web site.